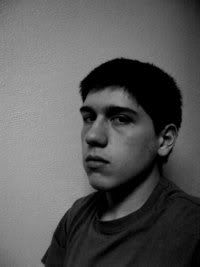 Amanda informed me that this was a "horrible" picture of myself, but I am of the opinion that I actually look pretty good in it. Er, let me explain:

the amount of weight that I have lost doesn't mean a thing to my mind. I know that I only weigh 180 or so, but I still see myself as 260 or 275, regardless of how I'm able to wear t-shirts that I was unable to fit into in the 5th grade, or tiny jeans, or whatever. But then there is the occasional picture, typically taken by someone else, that makes me look--dare I say it?--thin. This is how everybody else sees me nowadays. Nobody here knew me back when I was 275. The weight loss never happened; I just popped out of nowhere, 180 and lookin' fine.

And then there was this picture. I took it myself, just earlier today. While I might not be smiling (honestly, I tend to think that I look pretty goofy when I smile), this picture makes me look how I actually am: a college student, an adult, thin, perfectly normal... and seriously attractive. (And pretty damn modest.)

And that's your mindfuck for the day.